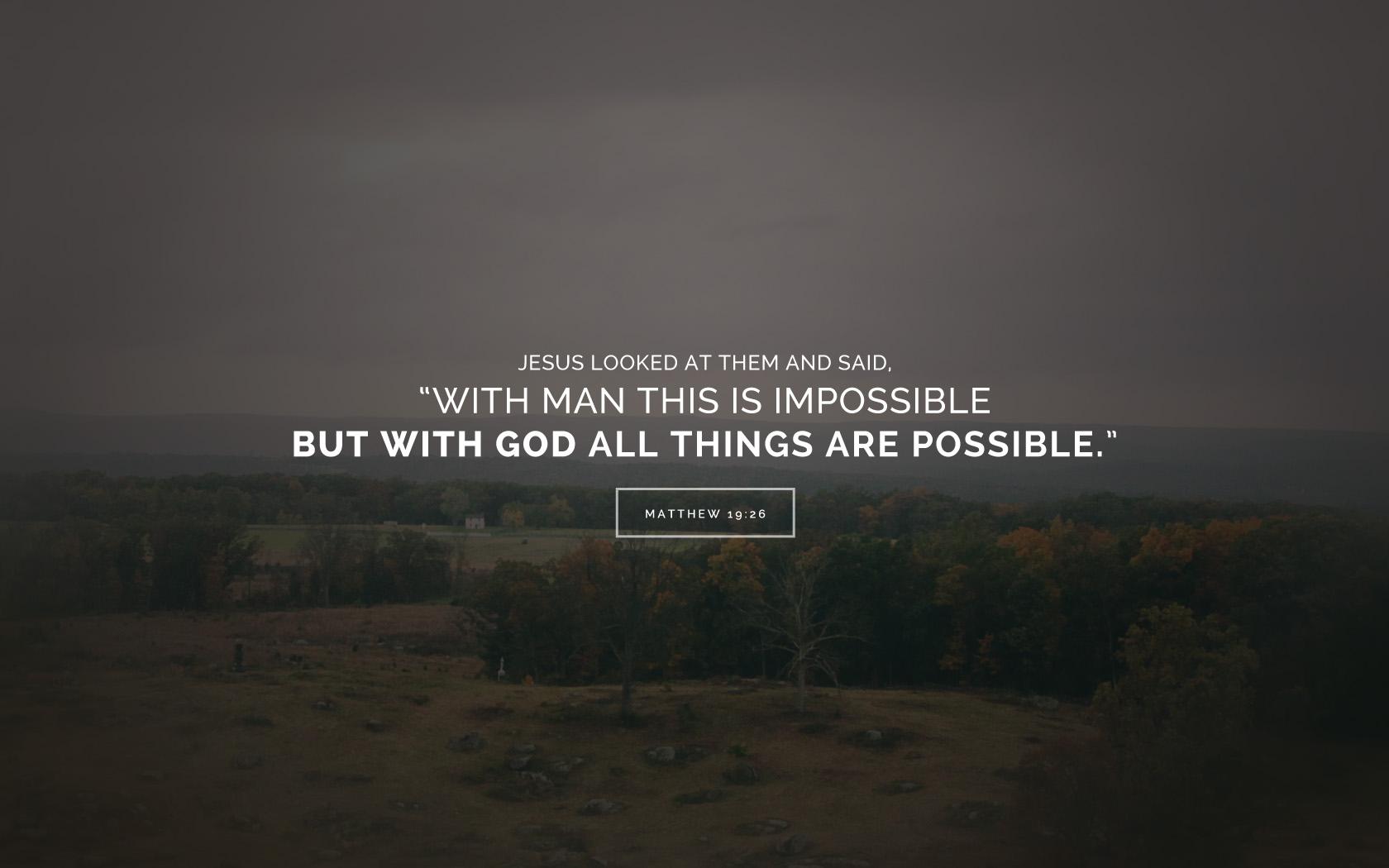 I was laying down on my bed yesterday afternoon when a
thought came to me. A thought that woke me up and made
me think…..
"Just remember something, when you speak to God you are
the one who sees the boundaries and the limitations, not God!
God doesn't see any boundaries when He speaks to us."
I woke up instantly and wrote the statement down. As I
pondered on that thought I realized how true that statement
was, especially in my life.
How many times I have felt God say something only to
rationalize it away. But we serve a God who knows no
boundaries and the people who serve Him know every
boundary! But it must stop! God wants us to trust Him.
He wants us to look past the obstacles and the limitations.
"Elijah replied, "Hear the word of the Lord. This is what
the Lord says: About this time tomorrow, a seah of the
finest flour will sell for s shekel and two seahs of barley
for a shekel at the gate of Samaria.
The officer on whose arm the king was leaning said to the
man of God, "Look, even if the Lord should open the
floodgates of the heavens, could this happen?
You will see it with your own eyes, answered Elisha, but
you will not eat any of it." 2 Kings 7:1, 2
We all know the conclusion of the story. God used four
lepers to save the city. But before that all happened
we know the city Elijah was in was under siege. There
was a famine and they were powerless to do anything.
No wonder the army officer said what he said. But
consider this, the army officer saw obstacle after
obstacle but God saw victory, life, and breakthrough!
Let's take a look at another example. Think about
Gideon. God called him to save his people but what
does he do???
"Pardon me, my Lord, Gideon replied, but how can
I save Israel? My clan is the weakest in Manasseh,
and I am the least in my family." Judges 6:15
Gideon saw obstacles and limitations. There are only
a few people in the word of God who believed the
first time! But for us to walk in all God has for us the
limitations must go. We surely need the grace of God
to see God as He really is. The first step is to recognize
we have put limitations.
The second step is to bring them to God and ask Him
to help us.
God has so much more in store for you.
We are not meant to deal with the "how" when God speaks,
we are just meant to believe. God will deal with the how.
This is something you must train yourself to do. You
train yourself by spending more time with God. He will
increase your faith. He will give you the peace you need
as you trust Him without limit.
I have failed so many times in my faith with God.
I have doubted Him and have even given up at times.
And that's what it's all about. I read a post today which was
extremely challenging. Karina asked the question,
Do you really believe Luke 1:37 which says:
"For with God nothing is impossible"?
Do you really believe, with God nothing is impossible??
Read her post here.
Remember, when God speaks we are the ones who see the
limitations and the boundaries, He doesn't. When He
speaks into your life about your life He sees it as done!
Will you trust Him today? Will you make the decision
to look past the boundaries and limitations and believe
the One who doesn't see the limitations???
Rolain